Appliance Solutions
Lightweighted Polymer Solutions for Appliance OEMs and Tier Vendors
We've helped thousands lose weight and take up less space
PolyFlex Products is a leading single-source provider of packaging engineering, manufacturing and returnable material handling solutions. Our products logistically integrate into automated manufacturing facilities to reduce touches, improve production flow and reduce product damage and are designed to optimize floor space.
Material experts engineer the polymer for employee safety, superior product protection, light weighting and durability, and then we begin the manufacturing process: designing, engineering, prototyping, tooling, manufacturing and testing.
Dedicated project managers follow the entire process from start to finish. Final products are washable, recyclable and reusable and can be easily identified for distribution centers.
Turnkey Manufacturing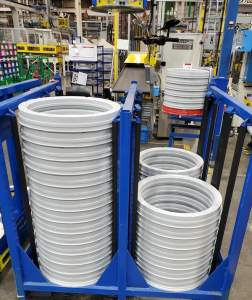 From product design and material engineering to manufacturing and quality testing, we bring a turnkey solution to every project.
Our innovation and speed to market makes our polymer solutions the right choice for the most complex integrated logistic material handling, manufacturing, parcel distribution and autonomous guided vehicle (AGV) protection.
Our end-to-end electronic supply chain includes innovation, product demand planning, material tracking, manufacturing and product protection.
Rapid Response Team Emergency Support
While you can't predict when automated warehouse systems or manufacturing flows will be interrupted, you can be assured that the PolyFlex Products Rapid Response Team is ready to go in an emergency. From design and engineering through manufacturing and testing, we deliver solutions quickly – anytime, anywhere.
Contact the Rapid Response Team at RapidResponse@polyflexpro.com.
Quality Program Management Focused on Efficient Solutions
Our lightweight, heavy-duty dunnage for automated manufacturing is designed to optimize floor space, for appliance manufacturing sequencing requirements and autonomous loading part protection.
PolyFlex Products is ISO 9001-2015 certified for quality and conducts continuous testing to ensure that all our products meet customer specs and standards.
LET'S DISCUSS YOUR MATERIAL HANDLING REQUIREMENTS
734-458-4194
Appliance Industry Solutions
Automated pallets
Automated totes
Automated trays
Automation components
Battery packaging
Conveyor components
Custom- formed plastic
Custom- molded product protection
Custom packaging for light to heavy components
Dunnage and parts
Dunnage trays
Durable containers
Electrostatic discharge (ESD) part protection
EV component handling
EV storage
Glass and ceramic packaging
High volume and short production run dunnage
Injection-molded trays
Integrated logistic packaging
Large-parts dunnage
Lightweight plastics
Material handling and solutions
Molded parts
Part pallets
Protection from electrostatic discharge
Recyclable packaging
Returnable parts packaging
Reusable plastic
Robotic components
Robotic pallets
Robotic trays
Shipping racks
Storage pallets
Storage trays
Sustainable packaging
Thermoformed trays
Warehouse pallets
Warehouse trays