Design Engineering Services
For your custom designs, PolyFlex Products offers full-service 3D modeling. The 3D model of your design gives you an early preview of your product. If necessary, alterations can be made to your specifications before tooling has been produced.
Through these designs, we create custom solutions to meet your material handling needs. Our team of engineers review your requirements for a project to determine how best to proceed with prototyping and manufacturing. After establishing your individual design criteria, we provide you with a concept and proposal for your project.

Material Engineering
The PolyFlex team of materials engineers are at the forefront of designing manufacturing materials and understanding the relationships between properties, structure and performance. They apply their knowledge to engineer materials that meet and exceed product and application specifications. Specific product materials can be designed for strength, heat resistance, lightweighting, dimensional stability and other characteristics.

Rapid Prototyping
If clients desire a prototype be produced to check the fit and function of their final design prior to creating tooling, we at PolyFlex Products can develop rapid physical prototypes from a wide variety of processes and materials. Every prototype is a direct duplication of the end product, so clients have a hands-on view of what their product will look like and whether or not the original concept will work for their product.
Our processes include:
SLA (Stereolithography)
SLS (Selective Laser Sintering)
Cast Urethane
Fabricated plastic or wood models

Tooling
PolyFlex Products extensive capabilities include the ability to create tooling in-house to produce the final products we design. From our recently updated Goodrich, Michigan facility we have the ability to produce injection molded tooling to support our molding operations.
When manufacturing products through injection molding, the result, the precision at which it was created, as well as the speed in which it was created all depends on the quality of tooling produced. At PolyFlex Products, our tools are created through a rigorous process with state-of-the-art equipment. With our experience for creating precision tooling, we will be able to repeatedly produce quality parts.
We can create tooling for:
Cast molds
Compression molds
Injection molds

Manufacturing
Using different product materials and processes, PolyFlex Products can advise you on the best selection to meet all your needs. With energy-efficient technology, we manufacture your products while maintaining an eco-friendly process. If you want manufacturing done right, PolyFlex Products has the answers you need.
We utilize a variety of manufacturing processes for our returnable and expendable packaging. With a wide range of molding capabilities, we are flexible in offering our clients the most cost-effective solutions. From concept, to prototype and production, PolyFlex Products helps protect your products during handling and shipping.
Manufacturing processes:
Cast Solid Elastomer Urethane
Foamed Urethane
Injection Molding
Thermoforming

Quality
PolyFlex Products takes great pride in the services and products that we offer. We adhere to a high-quality system standard for our design and manufacture of injection-molded, thermoformed and urethane solutions. It is our policy to deliver to our customer quality products and services that meet or exceed their requirements.
PolyFlex Products Delivers Quality in Custom Packaging
We are problem solvers, and, by developing personalized solutions, our product development team will work to find the specific answer to your packaging and molding needs. To prove our commitment to superior products and designs, we proudly earned and maintain ISO 9001-2015 certification.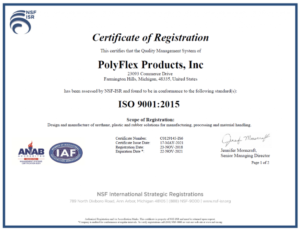 Assembly
When our design and engineered products require assembly we provide a cost-effective finished product with special attention to quality. PolyFlex Products employs a multi-talented assembly team that puts the same effort and workmanship into the assembly as we put into component manufacturing.

Shipping
Easy access shipping bays at all of our facilities receive materials and ship products daily. We take extreme care loading your product for delivery.

Circular Lifecycle
It's no secret that reduced waste and material recovery not only play an important role in a company's bottom line but more importantly recycling and return programs preserve our environment. PolyFlex Products' goal is a circular lifecycle for plastics with returnable products and plastic repurposing that helps to achieve zero waste.