Automotive Dunnage Solutions
Advanced Polymer Solutions Protect Your Critical Components and Protect Your Brand!
OEM and Tier vendor product protection that is designed and manufactured for reuse over and over again.
A Premier Automotive OEM AND TIER Partner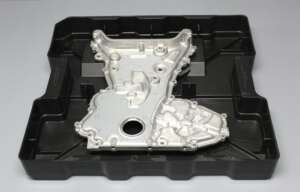 As an innovator of molded polymer solutions, PolyFlex Products is a premier go-to partner for the design, engineering, prototyping, tooling and manufacturing of material handling products, parts and automated manufacturing system components for the auto industry.
Through our multi-material and multi-faceted production capabilities, we address the auto industry's most complex manufacturing challenges through the latest molding capabilities, including solid elastomer urethane, foamed urethane, injection molding and thermoforming.
Turnkey Manufacturing
With design and manufacturing resources in North America and Europe, we bring a turnkey solution to every project – from design and material engineering to manufacturing and quality testing.
PolyFlex Products has long been recognized in the automotive industry for our material handling expertise, providing weight distribution, product shape, and ergonomic, lightweight and durable solutions for the most complex production challenges and demanding automated manufacturing and product protection requirements.
Rapid Response Team Emergency Support
While you can't predict when automated warehouse systems or manufacturing flows will be interrupted, you can be assured that the PolyFlex Products Rapid Response Team is ready to go in an emergency. From design and engineering through manufacturing and testing, we deliver solutions quickly – anytime, anywhere.
Contact the Rapid Response Team at RapidResponse@polyflexpro.com.
Optimized Material Handling
Our protective product packaging and dunnage solutions are designed for floor space optimization, production sequencing requirements and autonomous-loading part protection.
PolyFlex Products is ISO 9001-2015 certified for quality. We conduct continuous testing to ensure that all our material handling products meet customer specs and standards.

LET'S DISCUSS YOUR MATERIAL HANDLING REQUIREMENTS
734-458-4194
Automotive Industry Solutions:
Automated pallets
Automated totes
Automated trays
Automation components
Battery packaging
Conveyor components
Custom- formed plastic
Custom- molded product protection
Custom packaging for light to heavy components
Dunnage and parts
Dunnage trays
Durable containers
Electrostatic discharge (ESD) part protection
EV component handling
EV storage
Glass and ceramic packaging
High volume and short production run dunnage
Injection-molded trays
Integrated logistic packaging
Large-parts dunnage
Lightweight plastics
Material handling and solutions
Molded parts
Part pallets
Protection from electrostatic discharge
Recyclable packaging
Returnable parts packaging
Reusable plastic
Robotic components
Robotic pallets
Robotic trays
Shipping racks
Storage pallets
Storage trays
Sustainable packaging
Thermoformed trays
Warehouse pallets
Warehouse trays